Call Us Now 720-897-5303

Selecting The Top Garage Door Repair NorthGlenn CO For New Installs
Do you have a garage door that needs to be replaced? It could be that you have had this same one for a decade or more. The cost of purchasing a garage door can be substantial, which is why many people believe that they should attempt to install one on their own. Unfortunately, this is sometimes not the best idea. It takes very specific skills to remove an existing garage door, requiring special tools in some cases, not to mention enough experience to avoid potentially dangerous situations. Instead, you might want to contact a professional in the Northglenn area that has a reputation for doing the best and most affordable work. This article will discuss why it is difficult to do this on your own, and then show you how to find an affordable garage door repair NorthGlenn CO company that can do the new garage door installed for an affordable rate.
An Overview Of Installing A New Garage Door
For those that might consider doing this on your own, you should know that this takes quite a bit of effort. The initial step is measuring your existing garage door so that you can purchase the replacement, something that must be done before you take the old one out. You are going to need some tools including a tape measure, nails, drill bits, an electric drill and safety goggles and gloves to complete this project. You will need to lower the door, eliminating the tension on the extension springs and torsion springs, two components that can actually cause severe injuries. Once that is done, the door panels must be removed, the old door tracks must be taken out, along with the laser sensors, motor, and the remaining parts of this apparatus. You will then have to do everything essentially in reverse, hoping that you can get it just right. This could take you several hours, or several days, depending upon how much spare time you have and how easy home improvement projects typically are for you. What most people will do realizing how much work is involved is they will find a local garage door repair Northglenn CO company to help them out instead.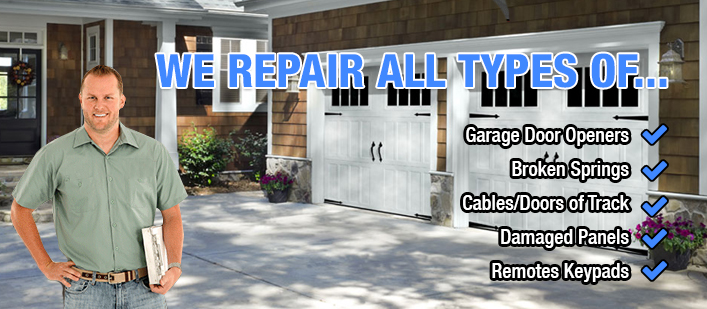 There are springs located at the rear of the garage up near the ceiling which provide tension so that the door opener does not have to work so hard in moving the heavy door up and down the tracks. The tension on the springs helps the movement of the door by expanding on the downward movement of the door, and contracting on the upward movement of the door.
Armstrong Doors Repair
1901 Leroy Dr #102, Northglenn Co 80233
720-897-5303
The Brand We Work With
genie
lift Master
amarr.com
chiohd.com
raynor.com
clopaydoor.com
haasdoor.com
doorlinkmfg.com
How To Choose The Right Garage Door Installation Business
There are a couple ways that you can find the most reliable and affordable business in this community. The easiest way is getting a recommendation from a friend or family member that has recently had this done. Otherwise, you will have to search on the Internet for reviews of the different companies that offer this service in NorthGlenn, and see what other people have said. Although the Yellow Pages will provide you with contact information, there is no way to determine which company is the most competent. Once you have a few contenders for this job, you can get quotes from each one, and make your decision based upon the information that you get back. It is recommended that you use a company that not only has a reliable track record, but a business that is easy to work with and affordable as well.
These are just a few tips that you can use to quickly find a garage door repair NorthGlenn CO business that can help you do a new garage door installed. Whether this is on a new home that you have just built, or an existing home where the old garage door needs to be replaced, these companies will be able to do it all. As long as you evaluate them as recommended, and get multiple estimates, you should find a company that can help you get the job done for an affordable price. It is a much better choice to work with a professional that will get the job done right the first time, allowing you to avoid the frustration and potential injuries associated with putting in your new garage door.